There are different types of electrical connections, each with its own characteristics and applications. These installations are composed of different elements: cables, circuit breakers, switches, sockets, ceiling lights, wall lights, etc.

An electrical diagnosis allows to check the electrical installation of a place, to detect possible malfunctions, to determine the type of electrical installation needed, to verify that the cables and conduits are installed in electrical sheaths to avoid the risks of fire and electrocution, to choose the wires according to the current to be carried ...

Trust our professional electricians to inspect your electrical installation and guarantee quality work. Apave carries out regulatory technical inspections and assists you in obtaining your electrical compliance certificate.
Regulatory technical inspection
During an electrical installation, technical constraints are imposed by a current regulation. A technical inspection is mandatory for all electrical installations. Its purpose is to check the general condition of the installation and to detect any potential defects that could endanger its users.

These constraints concern all electrical distribution systems that require connection to a distribution network.

Apave is involved in this mandatory technical inspection phase through :
Verification of the conformity of the installations to the technical and regulatory requirements at the time of commissioning or after having undergone a major modification.
Periodic regulatory safety inspections.
Customer Area
Join our client area and find all your documents and reports.
Our expertise in Infrared Thermography
Infrared thermography inspection of electrical installations and equipment measures temperature differences on electrical installations. It allows to detect anomalies and origins of abnormal heating (bad connections, overloads, etc.) and to see in real time, the hot spots likely to cause a malfunction.
This non-intrusive methodology is also a vector of energy performance.
Technical assistance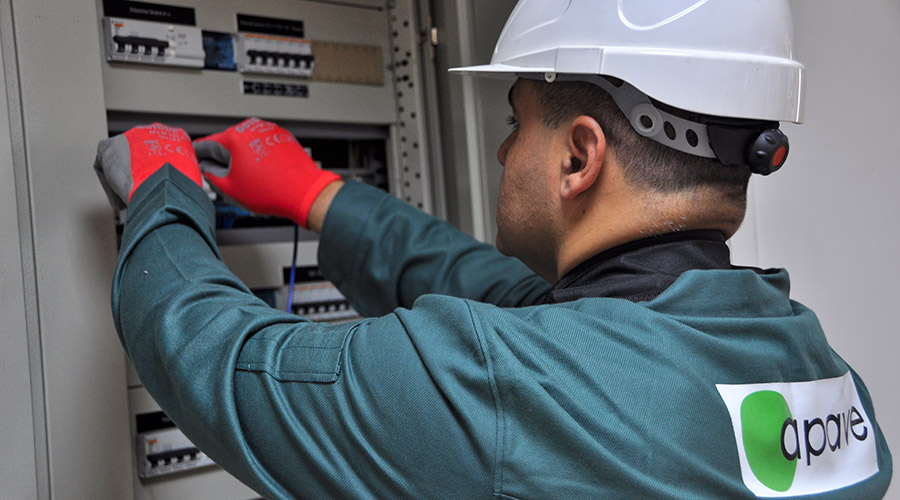 The conformity certificate of an electrical installation depends on the need. It depends on the surface to be covered and the number of existing electrical circuits.

Our electrical consultants take care of the conception and dimensioning of the electrical installations, so if you have difficulties in installing your electricity, we put at your disposal a technical assistance team.

Apave assists you in all the necessary steps to have a compliant electrical installation, guaranteeing the safety of its users:
Conception, realization and exploitation of electrical installations.
Reception of electrical equipment.
Analysis of electrical incidents and technical recommendations to remedy them.
Inspection by infrared thermography of electrical installations and equipment.
Missions of evaluation of the conformity of the electrical installations and the safety conditions of the machines in accordance with the relevant European directives and standards.
Missions of electrical data recording and analysis of the quality of the electrical signal.
Why choose
Apave Tunisia?

Our quality commitment
Thanks to our know-how, we train our teams on a continuous basis in order to benefit from a state-of-the-art expertise in the field of inspection as well as in the technical control of constructions. Our continuous improvement processes are a guarantee of quality in the missions we carry out on a daily basis.

Our unique approvals and accreditations
The only office accredited in Technical Control of Constructions in Tunisia, in addition to the accreditations on 7 fields for the regulatory technical inspection, the safety in electricity, the lifting, the pressure apparatuses, the installations of gas, and any technical control aiming at the protection of the workers.
Our customer relationship
Thanks to digital tools and our availability, we are able to respond to your requests quickly and provide you with all accredited services.